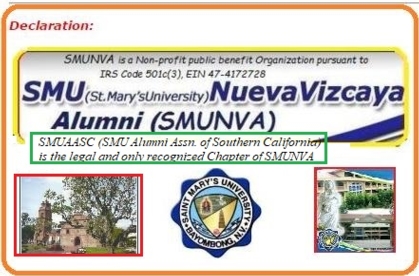 ---
Re-posted: 20180705
Hello Alumni, Donors, Subscribers, Friends and all,
From SMUAASC, your proud host for the 3-day 'CAMARADERIE & CHARITY' event,
we thank you for your attendance and participation. We hope you had fun and enjoyed the dinner, the dancing, the collegeality, the entertainment and especially, the chance to re-unite and reminisce with your classmates! This is the "CAMARADERIE" segment of our theme.
Maraming salamat po, for making it a successful and unforgettable event.
Not lost in the gaiety, we had some very important things to consider to carry-on this biennial tradition.

Firstly, Gloria Mabanta CAJANAP, class'69, was nominated and elected as the incoming SMUNVA President! Congratulations!
(Please note that SMUNVA is the legal non-profit charitable corporation founded by outgoing-president, Marlene Mendoza CORDERO, class'68, she will remain as the CEO of this 'mother' corporation. The legal semi-autonomous chapter, SMUAASC (host of the 2018 reunion, then presided by Gloria, remains under her tutelage until further notice. Yes, SMUAASC will remain an active, semi-autonomous under SMUNVA).
With the success of this 2018-reunion,hosted by SMUAASC, a legal chapter - we will pursue creating semi-autonomous chapters to manage future biennial reunions. We will provide them 'seed money' in the form of a ready-made Alumni data base (400plus members), an operational website, shared-charities, and
plenty of "how-to-manage-a-successful-reunion" expertise!

Secondly, a "candidate" for a chapter is the host for the 2020-13th biennial Global Reunion!
Hint: Florida here we come! In its very early stages, the volunteer-alumni-planners (Class'80,'74, 69) are thinking of a "A Camaraderie & Charity Cruise". This author is voting "yes, yes, yes" - what about you!

Thirdly, a tentative report shows that our finances from this successful reunion are in the 'black" (ie, positive). We should be able to provide funds for our shared charities, eg, Scholarship, Cemetery Chapel maintenance and Hospice care. Gloria & SMUAASC will continue to donate school books and electric fans for elementary schools. Other personal-family donations are: Donating agricultural lands, performing Medical missions, Funds for mobile clinics, Contributions for website maintenance are always welcome.



Fourthly, Thank you for your generosity. Your Registration fees, your subscription to our Souvenir Program and side donations helped immensely. Personal donations for the 'giveaways", hats, bags, collared-shirts, banners thinned our overhead expenses. Ambiance decorations,floral arrangements, food, drinks, "lechon", picnic settings - done with donated. volunteered labor. Yes indeed, we are living up to our motto, by sharing our "Time, Talent and Treasure" to SMU and sweet Bayombong! As the millennials would fist-bumped and chorused, "the SMU alumni is AWESOME"! Yes, they are!
A Treasurer's financial report is forthcoming. Once again, thank you for your generosity. This is the "CHARITY" segment of our theme.
Lastly, to Gloria and SMUAASC energetic Officers and Team volunteers - thank you for organizing and managing a very successful 2018 12th SMU Global Reunion. We are very proud of you and your accomplishments. You did extremely well. More power to you always.
Warm regards,

SMUNVA/SMUAASC alumni organizations
20180613/LT
---