Gloria Mabanta CAJANAP, bio
---
Posted Sept 23, 2017
---
On September 18, 2017, Angel Aluning, SMU Hs78 posted on his Facebook an excellent write-up about Gloria Mabanta CAJANAP, Hs69 and her energetic SMUAASC team in their leadership roles in the successful fund-raising events (the 3rd one is featured below). Also, thanks to Angel for promoting her, her team and the 12th biennial SMU Alumni reunion.
We take this opportunity to include his posting in our website to ensure "non-FB followers of Angel" get to read his excellent review. We need more of this. Salamat po!.
(p.s. Angel - send me your FB-followers' email addresses for inclusion to our website).

Angel's observation and positive readers' feedback (verbatim, but are emphasized) are repeated below.
---

Working hard in the spirit of Marian camaraderie to augment funds for the 12th Saint Mary's University Alumni Reunion on June 08, 09 & 10, 2018 at Embassy Suite Glendale, CA 91203.
This is the 3rd fundraising of SMUAASC (Saint Mary's University Alumni Association of Southern California). To date $4,500 has already been raised.
You can now register online at www.smunuevavizcayaalumni.org. The first 25 early birds registrants will get a free City of the Angels Tour, free t-shirt, hat & Tote (Bag). Registration Fee is $ 195 inclusive of 1 Welcome Night Dinner Ticket, 1 Gala Night Ticket& Picnic Lunch Ticket.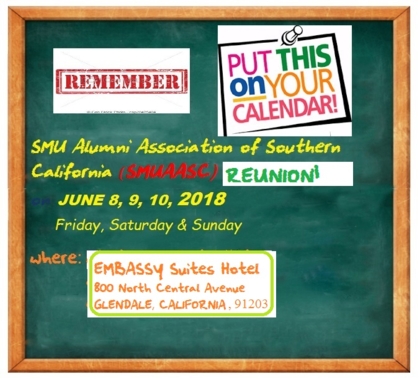 The President (and Officers) of the SMU alumni association for Los Angeles is
GLORIA "GLO" MABANTA-CAJANAP who is the current Governor of the National Council of Philippine American Canadian Accountants (NCPACA), the umbrella organization of the Philippine American Society of Certified Public accountants (PASCPA) in Los Angeles, California. She was chosen from among NCPACA Lifetime Achievement awardees to be the event chairperson for NCPACA's 30th Anniversary in Seattle, Washington last year.
She is a Past President and currently an Adviser of PASCPA. Since she joined PASCPA in 2001, Gloria oftentimes chaired the installation of officers and board members and induction of new members and spearheaded fundraising activities of the organization.

One of her biggest achievements was to send 40 boxes of books to Salvacion Elementary School in Bayombong, Nueva Vizcaya and install electric fans in every classroom.
Glo was born in VISTA ALEGRE (known as "BANCA"), Bayombong, Nueva Vizcaya. She was raised in a simple but descent family who could hardly afford to send their children to school. She had to work and study harder in order to attain her dreams in life. She was awarded the "Mathematician of the Year" when she was in Grade 4 at Bayombong Central School. She graduated with an honorary distinction in high school at Saint Mary's Girls High School in 1969.
Supporting herself through college as a librarian, she finished her Bachelor of Science in Accounting at Saint Mary's University. She passed the Certified Public Accountant (CPA) licensure examination in the Philippines. She worked and retired from Philippine Airlines as a Corporate Planning Analyst.
She moved to the US in 1998 and continued to work as a comptroller in a multi-million investment and apparel company. She retired in 2013. She now works as realtor with Keller Williams.

She is married to Felimon Paller Cajanap, a banker. They are blessed with three daughters: Jocelyn, Josephine and Jeanneth.
All of them graduated Magna Cum Laude! Jocelyn pursued her Master's Degree in Nursing at the University of San Francisco, Magna Cum Laude. She works as a clinical educator specializing in sepsis at Glendale Adventist Medical Center. Josephine finished her Doctorate Degree in Physical Therapy at Boston University, Magna Cum Laude. She works as the Director of Physical Therapy at Good Samaritan Hospital. Jeanneth, a CPA, earned her Master's Degree in Business Taxation at the University of Southern California, Magna Cum Laude. She works as a special projects auditor for the federal government. Mon and Glo have 3 grandsons: Matt,12 years old, Jon, 9 years old (sons of Josephine and Alan), and Andre, 5 years old, (son of Jeanneth and Andy), and a granddaughter, Alexandra, 3 years old (daughter of Jocelyn and Sergey).

A true and qualified President to lead an entire Marian alumni community.
---
Following are Facebook comments from Gloria's friends:
51Glo M Cajanap, Emma Ligot Geronsin and 49 others
Eleonor Jacinto Maines Very proud of my classmate and bff Glo M Cajanap..
Norma Baliton Im proud of Glo Cajanap! !Very inspiring struggle to success@ a true Marian .
· September 18 at 2:13pmRemove
Glo M Cajanap Hi Norma,
Kumusta na? Thank you so much for your trust in me Join na kayo and reguster at www.smunuevavizcayaalumni.org so you can avail of the free City of the Angels Tour, an 8hr tou & more!!!
SMU (St. Mary's University) Nueva Vizcaya Alumni www.SmuNuevaVizc
This is the official web site for the SMU (St.…
SMUNUEVAVIZCAYAALUMNI.ORG
Norma Baliton Thanks for the invite Glo !
Angel Aluning Ate Baby Eleonor Jacinto Maines register na daliii... hihihi. We hope to see you again here in LA. The last time that we saw you was in Toronto. Best regards.
Eleonor Jacinto Maines ok Angel kontakin ko si ate Enda mo para sabay kami..See Translation
Angel Aluning omg... yeeees. exciting naman!!!! hahahaha
Glo M Cajanap Hi Baby! Salamat for the kind words my dear. Sige na register na kayo so you could avail of the Free City of Angels, an 8hr tour.
Angel Aluning See you soon here in LA Mam Norma Baliton!!! Best regards.ike
Fran Cruz
👏Proud of my classmate Glo, SMC Girls' High School, class of '69. Epitome of TALENT and PERSEVERANCE.
Glo M Cajanap Are you back to the US Fran? Thank you for the sweet words. Please register now online. The website is www.smunuevavizcayaalumni.org
SMU (St. Mary's University) Nueva Vizcaya Alumni www.SmuNuevaVizc
This is the official web site for the SMU (St. Mary's…SMUNUEVAVIZCAYAALUMNI.ORG
Glo M Cajanap Thank you so much Angel! How I wish I will meet you soon in person.
Angel Aluning I know Mng Glo. We will soon! I requested October 28 off. I wanna join the next SMU fund raising event!!!
Priscilla Mallare replied · 3 Replies · 4 hrs
Gloria Vicky Asuncion Antonio Mabuhay, Marians!
Angel Aluning replied · 1 Reply
Priscilla Mallare Cora Timoteo Sending you this infi on the Nueva Vizcaya reunion. let me know uf you are interested
Emma Ligot Geronsin Such an impressive list of accomplishments
The SMU reunion efforts are in very good and able hands.
Priscilla Mallare @ Cora Timoteo
FYI : Info re: Nueva Vizcaya reunion
Angel Aluning Auntie Priscing Priscilla Mallare... where is this Nueva Vizcaya reunion? when will it happen? and who are organizing it? and may I have your address again please because the SMU Alumni sent you an application form but it returned saying that your address can not be found. you can private message me your address Auntie. thank you.
Priscilla Mallare I sent your reunion info to a friendwho is from Nueva Vizcaya so I wroteNueva Vizcaya instead of SMU. Hoping she would join the reunion of SM U then. I moved 2 years ago after a heart bypass cause I can no longer climb the stairs in my former home. I will write my new address in your private message
Angel Aluning Oh I see Auntie Priscing Priscilla... so it's the SMU reunion in June 2018 that you were referring to. It's a good thing that you survived the major heart surgery. God is really good Auntie. I told my parents about it. We hope to see you next year at the SMU Alumni association reunion at the Embassy Suites in Glendale. I will wait for your new address in my messages so that we can send you the form. Thanks Auntie and best regards. Take care. you can also register online in the website above.
Joselito Lee Tengco Angel Aluning - This is Lee Tengco (SMU Alumni Membership vp/webmaster, lee_tengco@yahoo.com) - hey many thanks for broadcasting our website reunion plans and the good stuff about SMUAASC prez, Gloria. Lilian and my sister Perlita are alumni advisers. Do email me in private your contacts so I can add them to the website register list. Your help is very much appreciated.
Joselito Lee Tengco I am very, very proud of you Gloria. Indeed, indeed your credentials speak volumes - your energetic, benevolent Marist sentiments are just few of the many ingredients you possess to ably lead our 12th SMU Global reunion (and beyond!). More power to you! (To the reader: I will post this in our website: www.smunuevavizcayaalumni.org - many thanks Angel and Lilian Aluning).
SMU (St. Mary's University) Nueva Vizcaya Alumni www.SmuNuevaVizc
This is the official web site for the SMU (St. Mary's…
SMUNUEVAVIZCAYAALUMNI.ORG
- end Angel Aluning FB posting·
---
---

3rd Fund-raising event: Pechanga Resort and Casino - September 16, 2017
---
---